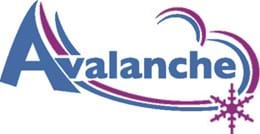 Get Ready for an Avalanche of Fun!
Tons of fun is waiting for you at the Avalanche area, which features many other slides ranging from easy to very difficult. You and your friends will have an awesome time as you race down the mountain! This area also includes the Tornado and Snow Rafting slides.
Safety rules: One person per inner tube. Riders must wait for the security gate to open and make sure that no one is at the bottom of the slide before the descent. Once at the bottom of the slide, riders must immediately exit the landing area.
Good to know
Inner tube slides
Easy, difficult and very difficult slides
2 to 8 people (depending on sliding conditions)
Also includes Tornado and Snow Rafting slides
Good to know
Inner tube slides
Easy, difficult and very difficult slides
2 to 8 people (depending on sliding conditions)
Also includes Tornado and Snow Rafting slides